August Festival of crafts and warfare "Apuole 854"
2011-08-23 14:26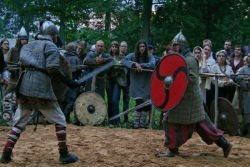 August 22-23, festival of crafts and warfare of Baltic region tribes "Apuole 854" is inviting you.
Never before have so many warriors from different countries, such as Lithuania, Poland, Estonia, Latvia and Belorussia, gathered for the festival.
For the whole period of the festival, you will enjoy a very active programme, offering you a possibility to try your strength. Moreover, you will be able to view the ancient warriors tournament called "The circle of battle", in which warriors from the named countries will be fighting against each other.
Finally, for two days battles between Vikings and Curonians will rage.
Apuole, a great mound, is a perfect place to rest your body and soul. You will not see any sign of nowadays civilization from the Apuole mound. There is a camping site nearby. As for the entrance fee, it is rather symbolical. Come to Apuole on August 22-23 to spend a magnificent weekend.
************
Are you satisfied with our travel and leisure guide? The best thanks from you we get, if you book a hotel, an air ticket or rent a car by clicking on the links below. After this, we get some commission, which do not charge you anything, but help us to take care of this portal. A payment is safe, not in our servers - our chosen partners take care of the payments and keep your data safe through SSL technologies. Reliable partners have the widest choice of hotels, air companies, rent-a-car points. They can offer you the best prices and no extra charge. Our personnel tried those services travelling over the world and were very satisfied.
Buy airline tickets to Lithuania
Add your comment!