Vokieciu Street
2006-11-17 15:00
Vokiečių Street is one of the oldest streets in Vilnius. If was named after the German merchants and craftsmen who were residing here as far back as the 14th century. Usually, they would come to Vilnius from Riga. Most likely due to the expanding German society the evangelical prayer house was established in this street. Moreover, St. Michael Church and the Franciscan Church, the first gothic churches in Vilnius, were erected nearby. In the 16th century the street was at its best as the richest merchants had their masonry houses built there.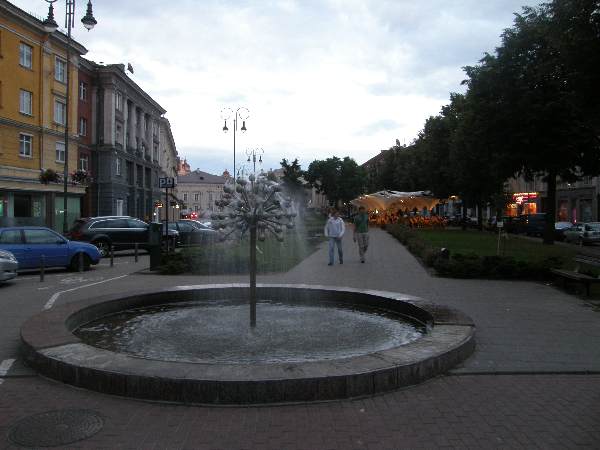 As far back as the epoch of Vytautas, wealthy citizens were building their houses with the back side facing the street and attached to each other to form a blank wall for security reasons. The entrance opening had gates that were closing tightly. And the facade facing the street was just a small portion of the house accounting sometimes only for one tenth of the whole building which was standing deeper like some huge iceberg.. Structural relief decorative motives such as cornices, cut strips, patterns of profiled bricks highlighting windows and bays enhanced the magnificent view of the street. Such is the restored gothic house built before 1514. Workshops or shops were usually on the lower floors from the side of the street and the owners lived on the upper floors. Cosy and narrow, closed and intersecting yards of these gothic houses attract the visitors to come and see their arches and, often, galleries across the whole side fasade. Later reconstructions changed the appearance of buildings: after the great fire of 1610 it was allowed to erect only masonry houses.
Even now Pilies Street is one of the most beautiful in the Old Town of Vilnius. Everyday it is full of people. No wonder as this artery joining other important streets in the Old Town has plenty of nice shops, cafés and important institutions. It is Vokiečių Street that is crowded with flows of people if anything interesting is happening in the Town Hall Square. In the summertime it has an active fountain and outdoor café. And in wintertime, Vokiečių Street turns into some kind of Christmas Avenue.
************
Are you satisfied with our travel and leisure guide? The best thanks from you we get, if you book a hotel, an air ticket or rent a car by clicking on the links below. After this, we get some commission, which do not charge you anything, but help us to take care of this portal. A payment is safe, not in our servers - our chosen partners take care of the payments and keep your data safe through SSL technologies. Reliable partners have the widest choice of hotels, air companies, rent-a-car points. They can offer you the best prices and no extra charge. Our personnel tried those services travelling over the world and were very satisfied.
Buy airline tickets to Lithuania
Add your comment!