Holy Trinity Church and Basilian Monastery
2006-11-16 17:48
Aušros Vartų St. 7b,

Behind the Philharmonic Society's Hall stand the exceptionally graceful, wavy gates of the Basilian monastery, one of the most splendid late baroque structures in Vilnius. They are decorated with a composition celebrating the Holy Trinity. After passing through the arch of 18th century gates, one enters a spacious yard, in the middle of which looms a cube-shaped church having gothic, baroque, and Byzantine elements.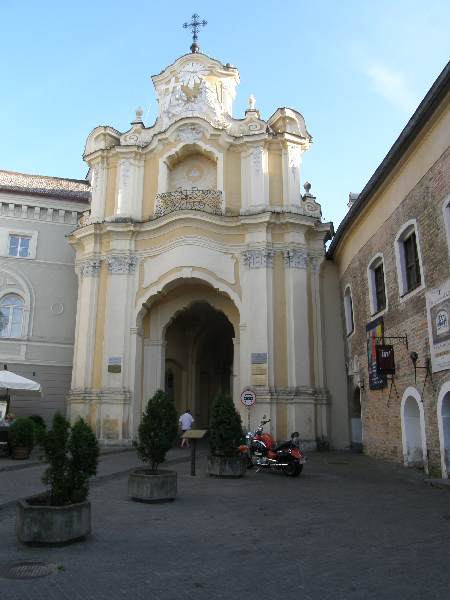 The Basilian monastery was founded on top of Holy Trinity Hill where the Christians, Antanas, Jonas, and Eustakijus, were hanged for converting to the Orthodox faith. In 1347, in memory of them, Julijona, the wife of Algirdas, built a wooden Orthodox church. After the church burned down in 1748, the Basilian monks built a new Orthodox church in the same location, where church has stood until the present day. The church is in the rococo style, its interior divided into three equally high naves topped by semi circular apses. During the restoration of the church, two rococo-style towers were built, the windows enlarged, and a portal introduced.

The monastery's houses built together with the church were later reconstructed more than once. An Orthodox printing house was also located there. At the beginning of the 19th century, a prison was established in the southern building of the monastery. In the 1st half of the 20th century, a Byelorussian gymnasium was housed here as well as a scientific society and a museum. The Basilian monks are now living in a small part of the premises of the previous monastery and Vilnius Gediminas Technical University also uses a part of the premises.

************
Are you satisfied with our travel and leisure guide? The best thanks from you we get, if you book a hotel, an air ticket or rent a car by clicking on the links below. After this, we get some commission, which do not charge you anything, but help us to take care of this portal. A payment is safe, not in our servers - our chosen partners take care of the payments and keep your data safe through SSL technologies. Reliable partners have the widest choice of hotels, air companies, rent-a-car points. They can offer you the best prices and no extra charge. Our personnel tried those services travelling over the world and were very satisfied.
Buy airline tickets to Lithuania
Categories:
Museums, Castles, Church, Parks, Attractions in
,
Travel, Tours, Routes in
,
Sightseeing, Walking tours in
,
Church in
Add your comment!