Winter in Trysil
2011-12-01 13:53
Alpine skiing and snowboarding
In Trysil, the whole family can take the same lift to the top of a slope and then choose different pistes of varying degrees of difficulty back down again. Green, red, blue and black runs are all available, and are all perfectly prepared. This makes it even easier for all the family to go skiing together.
Trysil consists of one large skiing area. The mountain's three faces are tied togheter by lifts and slopes. There are three routes over the mountain, and the quickest way to make the trip is on the Hesten and Kanken ski lifts, which will carry you up to a height of 1,100 metres above sea level. From the top, you can see for miles and miles in all directions.
Trysil is also home to one of Norway's best and largest terrain parks.
Snow guarantee
The season starts early in Trysil. Skiing begins as early as 29 October and the season lasts up until 1 May. Fortunately, snow coverage is never a problem. If necessary, the resort can fire up the largest and most advanced snow‐production equipment in Norway. All in all, this means more than 150 skiing days for you - and just as many nights preparing the pistes for the people working at the resort.
If, against all expectations, winter should fail to arrive on time, Trysil will refund the money you paid for your skiing holiday. The snow guarantee covers accommodation, skiing lessons, ski hire and ski lift passes.
Evening and early morning skiing
On Fridays, Sundays and Tuesdays, you can go evening skiing at Trysil. You can enjoy skiing on floodlit slopes until 8 pm.
If you would like an extra‐early start to your day, the resort offers early morning skiing every Wednesday and Saturday from 11 February until 7 April. Early morning skiing is for early birds who want to start the day with a good breakfast in Høgegga and then head off onto the newly prepared pistes. This offer is only open to small groups, to allow you to experience the exclusive feeling of having the slopes to yourself for a few hours. Just remember to book the day before.
For the children
Holidays in Trysil should be fun for children too. To make sure that skiing is as safe and as much fun as possible, the resort has set up three large children's areas where they can ski to their heart's content in safe and secure surroundings.
All of the children's slopes even out at the end of the run, and the lifts are easy for even the youngest visitors to use. The Smottes - the Trysil mascots - are out on the slopes in the winter and come up with all kinds of fun and games for the children to enjoy. Trysil also offers day‐care for children and the ski school runs a number of courses for young skiers.
Ski passes
The Trysil Skipass gives you access to 66 groomed slopes and 31 lifts. Children 0 - 6 years ski for free when using helmet.
In Trysil you must buy a Ski*Direct card for all lift passes. The price is NOK 45 and the pass can be reused the next time you are in Trysil or at any of the other Skistar destinations.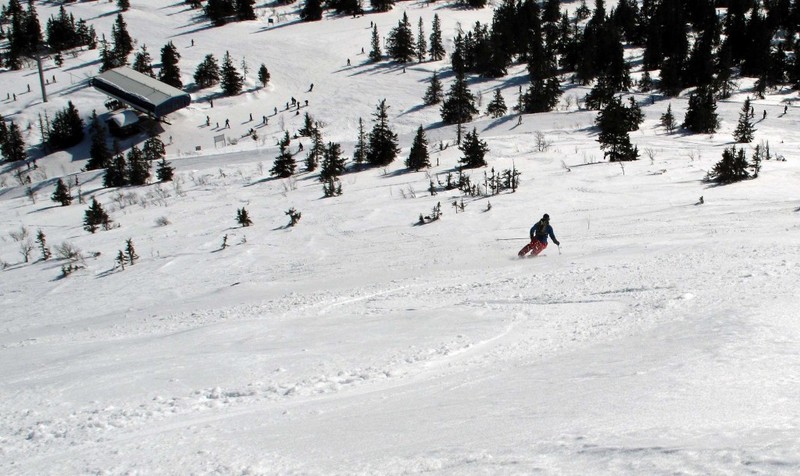 Ski hire
Trysil's two ski rentals both have ski in/ski out locations. They also have the best equipment, a modern ski workshop and valuable knowledge. Their skis and snowboards are always newly prepped.
The ski rentals are located in the skiing area at Trysil Turistsenter and Trysil Høyfjellssenter.
Price example: Complete alpine carving equipment 16+ years from NOK 360 per day.
Ski school
The ski school in Trysil has over 120 experienced ski instructors who love skiing. The professional and highly trained staff have extensive experience as ski instructors, which enables them to offer a wide range of ski and snowboard courses for children, youth and adults.
Cross-country skiing
If you want to go cross-country skiing in Trysil, you can enjoy 100 kilometres of groomed cross-country tracks around the mountain.
Winter without skis
There is more to do in Trysil besides skiing. The Radisson Blu Resort Trysil has an indoor surf wave, spa, adventure pool and bowling. Mountain Resort Trysil is a new modern resort with a sports shop, supermarket, ski hire, bars, spa, sauna and gym, as well as an indoor and outdoor pool. Activities such as horse and dog sledding are available in Trysil, where you will also find shopping opportunities, a cinema and the Trysil-Knut Ski Museum.
Where to stay
Unique to Trysil is the fact that almost 80 percent of the accommodation is ski in/ski out. This means your car can take a holiday too, as you will not need it when in Trysil. For guests staying at the hotels in the village the Ski Bus takes you to and from the slopes, for free.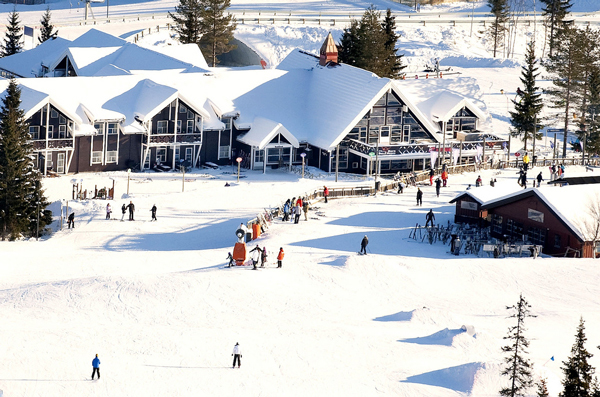 Dining and nightlife
Trysil has many good restaurants and cosy cafés. The ski resort itself has more than 20 eateries and restaurants.
Après-ski is a good way to end a perfect day on the slopes, and Trysil has several places for after ski, often with live music. Laaven, Ski Pub`en and the skybar IC: Blu are just some of the places to visit.
Information is taken from Visit Norway.
Add your comment!