Best Things to Do in Trysil
2011-11-30 18:52
Summer
River activities
The Trysilelva River offers exciting experiences for the whole family. Choose between rafting, river boarding, ducky, canyoning, canoe trips, kayak courses and trips on wooden rafts. You can take the children family rafting, or on a family ducky trip. Safety is fully ensured in all river activities.

Hiking
There are many beautiful hiking areas in Trysil. There are guided trips to the peak of Trysilfjellet Mountain (1,132 metres above sea level), and you can join a guided walk in the Kolosjøen Nature Park. Here you will find an interesting cultural path with old-fashioned bloomery furnaces, hay-drying racks, lumberjack huts and a logging dam. Self-operated raft ferry to one of the islands in Lake Kolosjøen. You can pick up a free hiker's map of marked trails at the Tourist Office.
Biking
Trysil has several marked cycling routes, suitable for all levels. You can cycle on roads, in the forest, in the mountains, or combine different terrains and hills. Each route has some fine spots to stop and relax.
Bikes, child seats and cycle carriages can be hired in Trysil. Free maps and route descriptions are available at the Tourist Office.
Fishing
Huge lakes, gentle streams and the Trysilelva River provide good fly-fishing. Trysilelva is a part of Scandinavia's longest water system. The river offers large stocks of wild fish, including trout, grayling, pike and whitefish. You can choose between organised activities, such as logger boat fishing, guided fishing trips, fishing trips on wooden rafts, fishing in exclusive fly-fishing zones and fishing school for the entire family.
Golf
Trysil Golf Course is one of Norway's leading forest and mountain courses. The 18-hole main course runs through varied forest terrain at the foot of the Trysil Mountain. There is also a 7-hole short course and a large driving range. Equipment is available to rent for both adults and children. From Trysil you can also reach four other golf courses in just an hour's drive.
Wildlife safaris
The wildlife in Trysil is unique to Norway, and there is a variety of animals that are close by, and in their natural habitat. For an extra special day you can join an elk safari, either by bus, minibus or on foot with elk dogs. You can also get in a canoe and paddle on a beaver safari. You will be taken on a tour of the beaver's kingdom, where you will search for beavers, beaver lodges, fellings and any other tracks.
Winter
Trysil is Norway's largest ski resort with 65 slopes and 32 lifts. There are also a number of activities to choose from outside the ski slopes.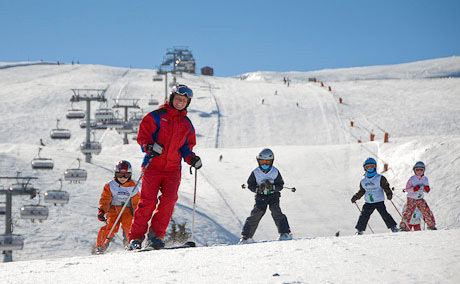 Dog sledging, sledge rides and ice fishing
From December through April you can go dog sledging. The trips are of various lengths, and there are also special family days. You can also try nightly sledge rides in horse-drawn sledges in the woods of Trysil. From March through April you can take part in guided ice fishing trips. You can catch perch, gwyniad, char and pike.
Cross-country skiing
In and around Trysilfjellet there are 100 kilometres of prepared cross-country tracks. The tracks are groomed for both classical and freestyle, and there is a 3-kilometre long floodlit track for those who would like to go skiing after dark.
Spa and swimming pools
At Radisson SAS Resort Trysil you will find a wellness area with pools, saunas, spa and fitness centre. The pools offer both calming, relaxing waters as well as rolling waves perfect for small-scale surfing. The hotel also has a bowling alley with eight lanes.
 Information is taken from www.visitnorway.com
Add your comment!