Salmon tartare
2010-12-07 16:15
Cut the fresh salmon into very small pieces, similar to sausage-meat. 
Also cut an onion into small pieces (I used the white one, it is tanger but it is good to use a red onion too).
Chop up parsleys, dillies. Put everything in a bowl.
Dredge with salt, peppers (I use lemony), it is allow with sugar.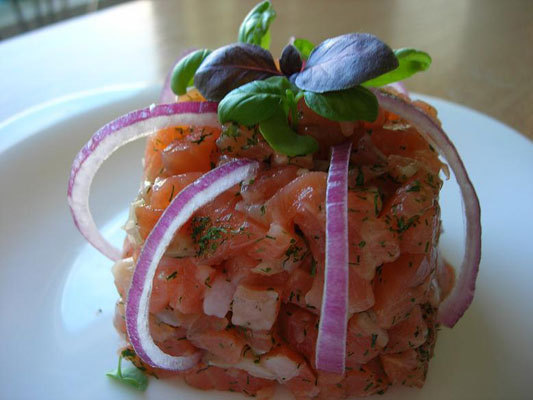 Pour oil and some lemon juice.
Stir everything.
If someone likes, it is possible to put chopped capers, pickles...
Leave in a fridge.
You can eat already after two hours.
Eaten with toast or bread scones.

Have a good taste.
 Recipe of  Galina Jagello
"Mineral waters" recommends the wine Santa Helena Siglo De Oro Chardonnay Central Valley with this appetizer. Seeking exclusiveness of this wine, one works in the greatest vineyards in the early mornings in order the grapes, picked with hands, would not be beaten down by the sun. After particles of berries have sunked in the natural way, the ferment is done in the steely receptacles insulating from the contact with air, ensuring the bright bouquet and taste of the wine. Bouquet of lemony tint wine evokes peaches, apricots and butter. Gutsy but elegant taste matches with chicken and juicy fish meals.
Country of origin: Chile
Producer: Santa Helena SA
Bottle capacity: 1.25 pint
Add your comment!