Poppy Seed Biscuit with Sultans' Cream
2010-12-07 16:02
 Ingredients:
Poppy seeds                                  2 cups
Desiccated coconut medium        ½ cup
Eggs                                              6
Caster sugar                                ½ cup
Rome concentrate                         1/5 teaspoon
Cream:
 Dried Vanilla pudding           1/3 cup  (2packages)
Milk                                          1 ½ lb
Sugar                                         ½ cup
Butter                                         1 cup
Canned pineapple                1 (8 ounce) can
Jelly                                           3 cups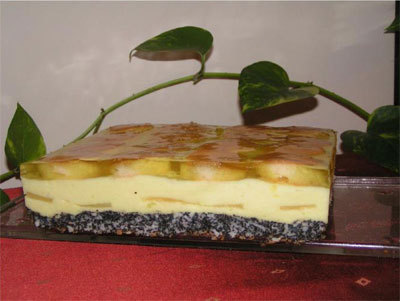 Preparation:
Soak poppy seeds in water for 12 hours. Soaked poppy seeds combine with desiccated coconut medium, eggs, caster sugar, rome concentrate till it gets solid. Pour everything into a greased (with butter) baking dish and bake 180°C for 25-30min, cool the cake.
Cream:  Boil 1lb milk with sugar, then beat in dried vanilla pudding (melted in ½ lb milk) in the boiling milk, boil for 3-4 minutes and mix, and then cool it well. Stir the cooled pudding with a mixer and put the butter.  
Put ½ cream on the cooled poppy seed batter, pour 1 cup jelly and cool it. Put the left cream, then pineapples, then the left jelly and cool again.
 Wines
Argentina:
Valentin Bianchi Famiglia Late Harvest, sweet
Gold, perfectly offset taste, honey bouquet wine with a cue of citrus fruit husk and hay. Cool the wine before serving.
Germany, Moselle valley:
Selbach Riesling Kabinett (Fish), medium sweet
Aroma of flowers. Distinct taste of fruit (peaches, apples). Perfectly offset, elegant white wine with a little bit noticeable sweetness.
Recipe and photo of Slaweko Kowaliko
Add your comment!